Well, not me, but a lot of people are! For most businesses January is slow because of all the rush of sales for Christmas. For me, I had a ton of Christmas bookings and now I'm getting tons of calls and emails about wedding photography.

Men LOVE to pop the question during the holidays, so January a lot of brides immediately start planning their weddings and try to reserve the ceremony location and photographer first and foremost.

This week alone I've booked two weddings and have several more consultations to go.

If you are looking for a wedding photographer, call me at 904-891-0359 to set up your consultation. If you are getting married, you really need to look over a FULL album of photos and talk to the photographer, not only will it give you a chance to see the photographer's work from start to finish but you'll see if your personalities mesh well.

Here's some photos I took of a good friend's trash the dress session: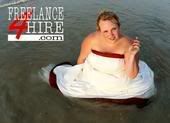 If you like the trash the dress photos or want to learn more, check out my website.

If you have Myspace and want to keep on top of specials and see new photos all the time, add me.