If you know me, you know I'm not a purse kinda girl. I mean, I typically already have at least one camera bag strapped to me and my laptop bag--but when I started buying photo purses, my attitude changed!

One of my vendors has released a new leather purse and they are offering an awesome deal on it--half off, so I'm passing that savings on to you!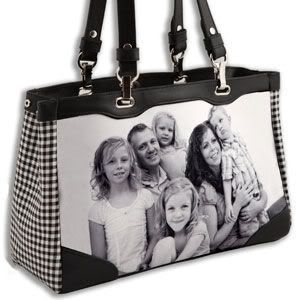 This bag has to be ordered NO LATER than Sept 12th to get this discount.
You don't even have to have been one of my past clients to take part in this! You can email me your favorite photo if you want one of these bags!
All leather trim with substantial hardware upgrades introduce you to a well sized bag with a snap closure containing a full length zippered divider pocket. The liner also includes a 7" zipper pocket, 2 slip pockets and a lobster claw key clip. Choose among four stylish gusset patterns as you fully deck out our latest handbag offering.
Snap Closure
Your Favorite Photo on Both Sides
Full Length Zipper Divider Pocket 13"W x 9"H x 5"D7"
Zipper Pocket
2 Slip Pockets 7/8" x 25"
Detachable Leather Handles w/ Nickel Hardware
Key Clip
Metal feet
Four choices of gusset fabrics (black, daisy black check, pink mod)
$199 if ordered by Sept 12th! Price will be almost double that after that date--this is an awesome deal.Think about XMAS gifts, mother's day gifts, birthdays, or just to have for yourself! I get sooooo many compliments on my bag!
If you need your photo changed to black and white I can do that too, for no additional charge!
Repeat customers--take $10 off if you have had more than one photo shoot with me!
ORDER YOURS NOW! EMAIL ME with your photo or file name (if you need your photos reuploaded to the gallery, let me know!)
Christy@freelance4hire.com
If you haven't done a photo session with me, but still want your photos on this purse--no big deal--email me your pics!